other
Outlying Islands
While Lamma does offer the best compromise of rural Hong Kong life close to the city lights there are other Outlying Islands which are also interesting to visit and each have their own unique charm.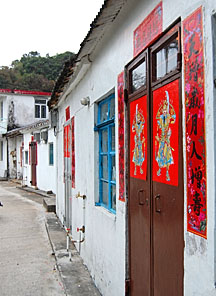 Lantau Island - The largest of the island in the Hong Kong Region this is the place where most visitors to Hong Kong first arrive, as the airport is on an artificial island reclamation attached to the north of Lantau, and the high speed trains and roads into the city run along the north shore of Lantau.
However there is a lot more to Lantau than just the airport, from the Tai O fishing village, through the Po Lin Monastery and Tian Tan Buddah to Disneyland and miles of unspoilt beaches on the south side there is something for everyone on Lantau. Reach it rail via the Tung Chung MTR line or via ferry from Central Pier 6, just two piers along from the Lamma Island ferry. website
Cheung Chau - This small dumbell shaped island is popular with Hong Kong residents and well known for its seafood restaurants and fishball snacks. Visit any time of the week to enjoy their two popular beaches or the strip of restaurants near the historic Pak Tai Temple. Take one of the regular ferries from Central Pier 5, just next to that which goes to Lamma and considering staying overnight either at the Warrick Hotel or one of the many Holiday Flats on the island. website
Peng Chau - The smallest of the regularly visited islands Peng Chau has the least facilities for visitors, but plenty of real local Hong Kong rural life. A great place to go to see how sleepy Hong Kong's outlying islands must all have been 50 years ago. Great for a day trip and a walk on the hills.