Hotels in
Hong Kong
There are a plenty of accommodation choices on Lamma Island itself but it is also possible to stay elsewhere in Hong Kong and visit Lamma as a day trip.
Hotels located on the South Side of Hong Kong island are well placed for you to take the ferry from Aberdeen Village to Lamma Island.
South Side
L'hotel Island South - As the name suggests, this hotel on the South side of Hong Kong island is a custom built modern tower hotel which is part of the "L" group. Offering modern decore and affordable rooms it is ideally placed for Lamma.
OVOLO Hotel - This modern hotel just recently completed offers standards like free breakfasts, but also Free Wife, a full laudry service and Apple TV! A smoke free hotel it is located on Wong Chuk Hang Road.
The T-Hotel - This surprising little hotel is actually the hands-on training facility for a hotel training college. So though small it is a 5 star hotel in miniature staff full of college students operating under the close supervision of their trainers as they study for their degrees in hotel operation and management.
Central
With the ferry from Central to Lamma being the main way to reach the island a hotel situated in Central is a perfect choice. Being the main business district of Hong Kong it has a large range of hotels on offer, though mostly at a high price.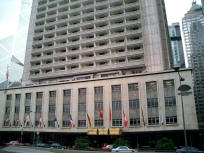 Mandarin Oriental - One of the leading hotels of the world "The Mandarin" (pictured) needs little introduction and though the building is not modern it has been regularly renovated to keep up to the 5 star standards that the world of celebrities and business travelers of the world have come to expect. Located right in the middle of Central it is just a few minutes walk from the ferry pier to Lamma.
Sohotel - Located just outside Central in neighbouring "Western" this boutique hotel is small, just 37 rooms and suites. But each one comes complete with every facility from free internet to kettles and hairdryers. It's great location just minutes from the business center, but in a more residential area makes it a great choice.